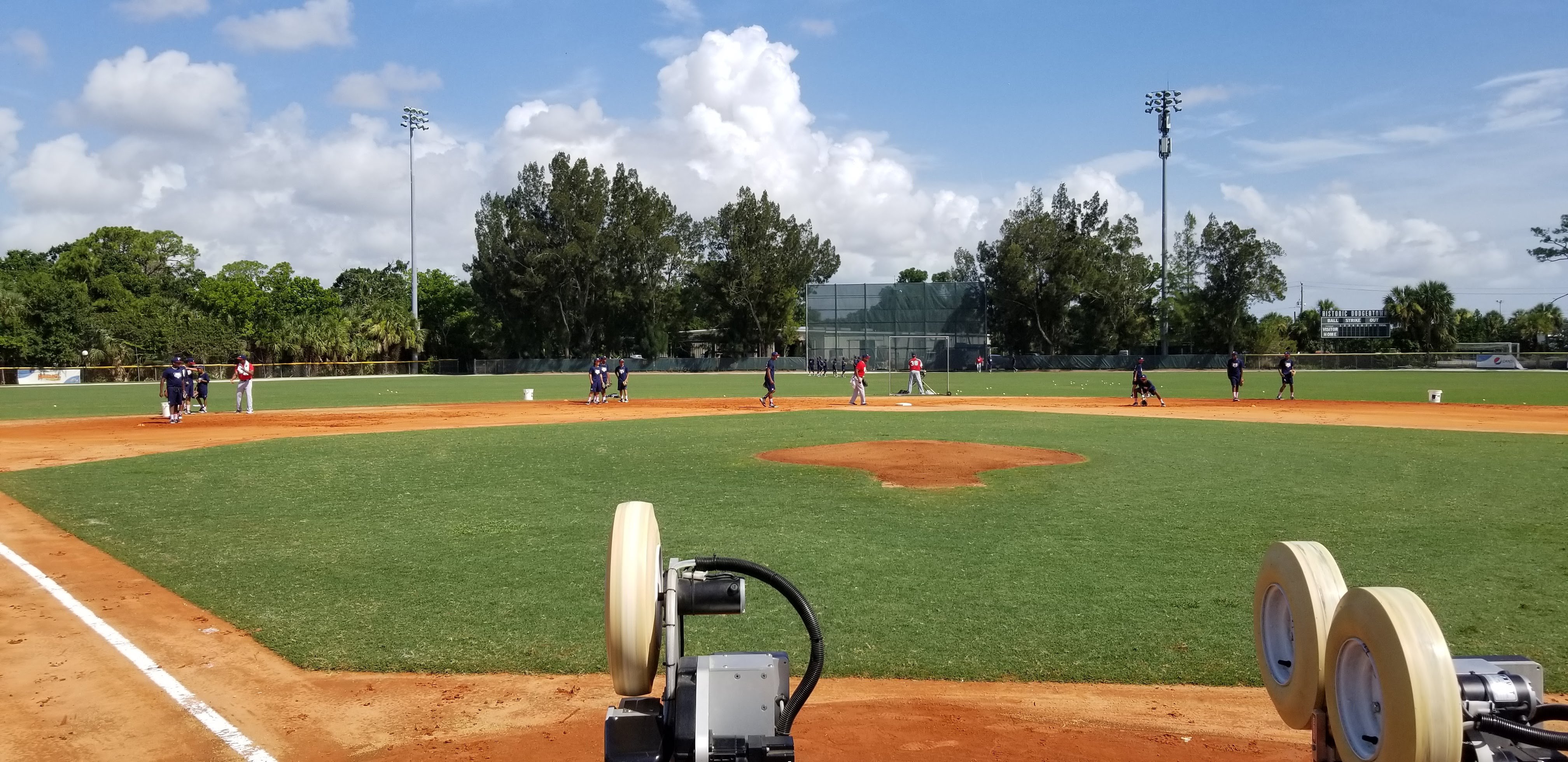 It's not everyday that you get to play on a diamond, hear Ken Griffey Jr. talk about hitting, and watch the Commissioner of baseball give a state of the game.
Let's talk about the incredible work of MLB's Youth Academies creating opportunity through the Elite Development Invitational.
Read on and get an inside look at how Major League Baseball is providing the best training and opportunity for the most prolific players of the Urban Youth Academies from across the nation.
WATCH THE VIDEO!
In Vero Beach, FL FungoMan joined over 30 former professional players including veterans like Jerry Manuel, Tom Gordon, Marquis Grissom, and LaTroy Hawkins serve as instructors with Commissioner Manfred, Tony Reagins, Bo Porter, Dave Winfield, and Ken Griffey Jr. who stopped by to share their knowledge and experiences at the Elite Development Invitational.
Utilizing the successful Breakthrough Series instructional model incorporating multiple seminars, Major League Baseball, USA Baseball and the Major League Baseball Players Association teamed up to develop the revolutionary Elite Development Invitational.
The two week event welcomed over 250 players (ages 12-17) and more than two dozen coaches with a combined 200-plus years of baseball experience to historic Dodgertown in Vero Beach, Florida, for two weeks of intensive instruction.
Using the spring training environment, coaches provided quality baseball instruction, while the FungoMan machines powered precise repetitions for some of the country's best baseball prospects, including many from the MLB Urban Youth Academies across America. Each position on the field were given attention with expert level instruction, challenging game situations, and appropriately located repetitions—reflecting the MLB's unwavering commitment to provide the best baseball training opportunity.
By using the FungoMan technology, EDI players and coaches accessed exciting pre-programmed routines that gave players challenging reps, in increments of 3 seconds if desired. As an example, shortstops could work on the 2 hop, top-spin ground ball in the deepest part of the 5/6 hole until mastered.
To continue the MLB's tradition of giving back to the community and the next generation of baseball, FungoMan planned and executed the following tactics:
Using the FungoMan technology, multiple players were involved in one drill at the same time, while coaches were able to run a separate drill or bring themselves closer to the action to give instruction next to the players, while aided with the exact repetition delivered by FungoMan on command.

FM Technology allowed the success-driven players opportunity to hone their craft with repetitions that specifically challenged their advanced ability.
Want to learn more about implementing FungoMan into your program? Click below.