---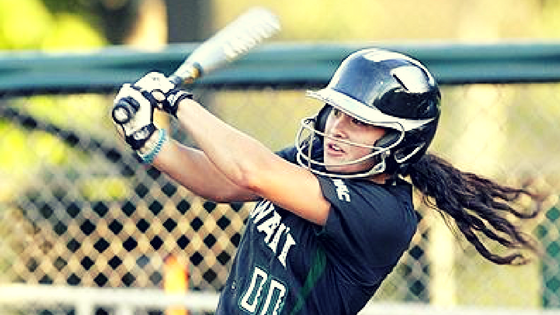 In the panic era of college softball, where young women are recruited and committed as early as their eighth grade year, one softball player committed "late" as a senior, broke records, led her team in homeruns, and represented her team and school for an Espy award for "Best Upset" at the 2010 ESPYs.
Kelly Majam Elms, graduate of University of Hawaii, boasts a college career batting average of .335 and fielding percentage of .992. Not to mention hitting thirty homeruns in her freshman year.
She generously took some time for us to interview her and share her thoughts on committing "late."
As a high school sophmore, Kelly Majam joined her older sister, Allison Majam, to play 18U Travel Ball. Around this time, Majam began making her list of dream colleges she had hopes of attending. Some of her stipulations included: Division 1 and sunny.

After emailing the head coaches of those universities, she waited. She played tournaments, the coaches came, and playing by the rules she did not have formal conversations with coaches until her senior year.
Why the recruiting system allows for 8th grade committers and zero-conversation for junior players with coaches -- is beyond me. However, the rules of recruiting engagement are for another time and space for debate.
When asked, "Why wait to committ?" she honestly admitted, "I was homesick already at the thought of leaving home. I felt like I wasn't ready to decide my future for four years, I wasn't ready to sign my life away." I wonder how many other young players feel forced to committ early out of fear that they might miss out on a scholarship opportunities.
"If I had committed earlier, I probably could've committed to a bigger school in a power conference. I was getting recruited by those schools, but because I didn't want to committ early, they filled up all their scholarships."
Retrospectively looking back at Majam's successful career, it's not Majam who looks like she missed out on anything. In fact, universities missed out on a great player, who just wanted to weigh out one of life's most influencial decisions after her Pre-Algebra final.
In the end, Hawaii was a fantastic fit for her, and she has nothing but praise for the university and coaching staff at her alma mater.
Her historical college career is something quite remarkable both in terms of statistics and resilience. Her achievements were acknowledged in her nomination for the award of NCAA Woman of the Year.
Check out some of her career highlights at the University of Hawaii
Some might say, Kelly Majam's (now Elms's) talents could have been seen by the sparking lights of the SEC or Pac-12. It seems as though the current system of recruitment narrowed the options prematurely for this star player.
In 2010, Hawaii beat Alabama in the Super Regional, and was nominated for "Best Upset" at the 2010 ESPYs.
Who's to say there isn't poetic justice? Kelly would never say that...but I would.
Nevertheless, she had an impressive career at Hawaii, married Hawaii's stand out baseball pitcher, Josh Elms, has a beautiful two year old baby girl, Riley, and another on the way, while teaching Physical Education at Liholiho Elementary school, running a small business The Quiet Sunshine Shop, and coaching hitting clinics.
---
Looking for more stories, softball drills, and training tips? Don't forget to sign up for our blog and download our free eBook below!