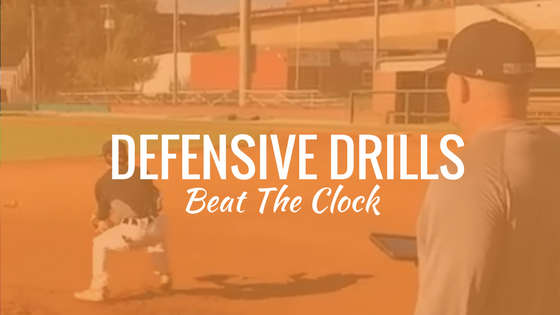 The sound of the ball popping into the first baseman's glove makes a hard thump. A millisecond later the baserunner's cleat lands on the bag. The out is made. Relief.

This is baseball. This is the game: catch the ball, throw the ball, record the out.

This fundamental act is repeated over and over in practice. The stopwatch can teach and develop a player's internal clock. Let's take a look at how coaches are utilizing the accountability of the clock.

Why is it important to utilize the component of time in practice?

Whether you're using a stopwatch or the timer horn on FungoMan, the accountability created by measuring the time of a play eliminates discrepancy.
The dynamic of time disciplines players to make split-second decisions about which out to make based on the speed of the runner.

Here we have three practice scenarios in which you can add a timing feature to hold your players to an accountable time frame for capitalizing on opportunities to record an out.

1. Outfield throw to 2nd or 3rd.
2. Timed Ground Balls, out at 1st.
3. Catcher Pop Time in 2.0 seconds or less.
Removing any room for speculation, and human subjectivity ultimately gives your players confidence in their ability to perform the play in the actual game time frame. FungoMan's electronic timer built into the machine makes timed drills that much easier to incorporate into practice.
What other drills would you recommend incorporating the element of time? Leave a comment below or on our Facebook page.