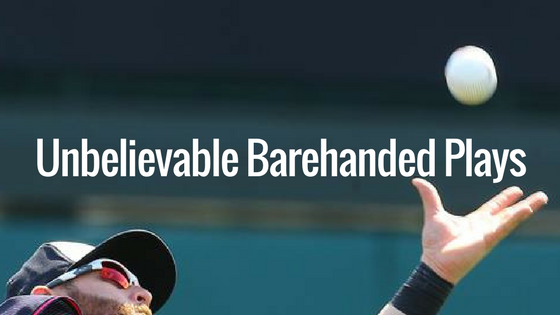 DISCLAIMER: Fundamentals should always be stressed at every level of play. Over the course of the season, those who execute with great fundamentals will always end up with better results than those who seek cavalier showmanship.
HOWEVER, there are game times, when the situation presents itself, and there is no alternative course of action besides figuring out a way to make the play on the fly, on the run, or both.
Here are a few impressively, unbelievable barehanded plays that got outs.
Ozzie Smith, doing wizardly things.
Kevin Mitchell giving his best Willie Mayes impression.
Jorge Posada making an incredible play despite interference.
David Wright acting casual.
Chase Utley making a name for himself, twice.
Bryce Harper giving us the best of both worlds--glove & hand.
Ryan Goins solidifying his ninja status.
Randy Johnson not letting anything past the BIG UNIT.
Andres Blanco on the run, laying out, and making it look easy.
Brandon Crawford snagging a nasty hop like a routine play.
And if all else fails, do it like Paul O'Neil.
---
Did these remind you of any spectacular plays we should've mentioned?! Feel free to comment below with a link! We'd love to see 'em! SHARE this blog post to someone who can appreciate baseball's athleticism.
Check out this free download to test and improve your players' fielding consistency! And SHARE your progress videos with us on Twitter @FungoMan.