As members of the baseball industry, we've gotten quite used to hearing about the effects of the Statcast era and how info-tainment is now a major player in the game. But the technology that was once exclusive to the Bigs are now more accessible than ever, which is GOOD NEWS for baseball academies.
Measurements of power, speed, fielding ability, and throwing ability are numbers baseball academies can harness for their own progress tracking. And the technology doesn't stop there.
There are 6 Baseball Academy Technology Resources we're highlighting, so you can be sure you're in the know. Check it out.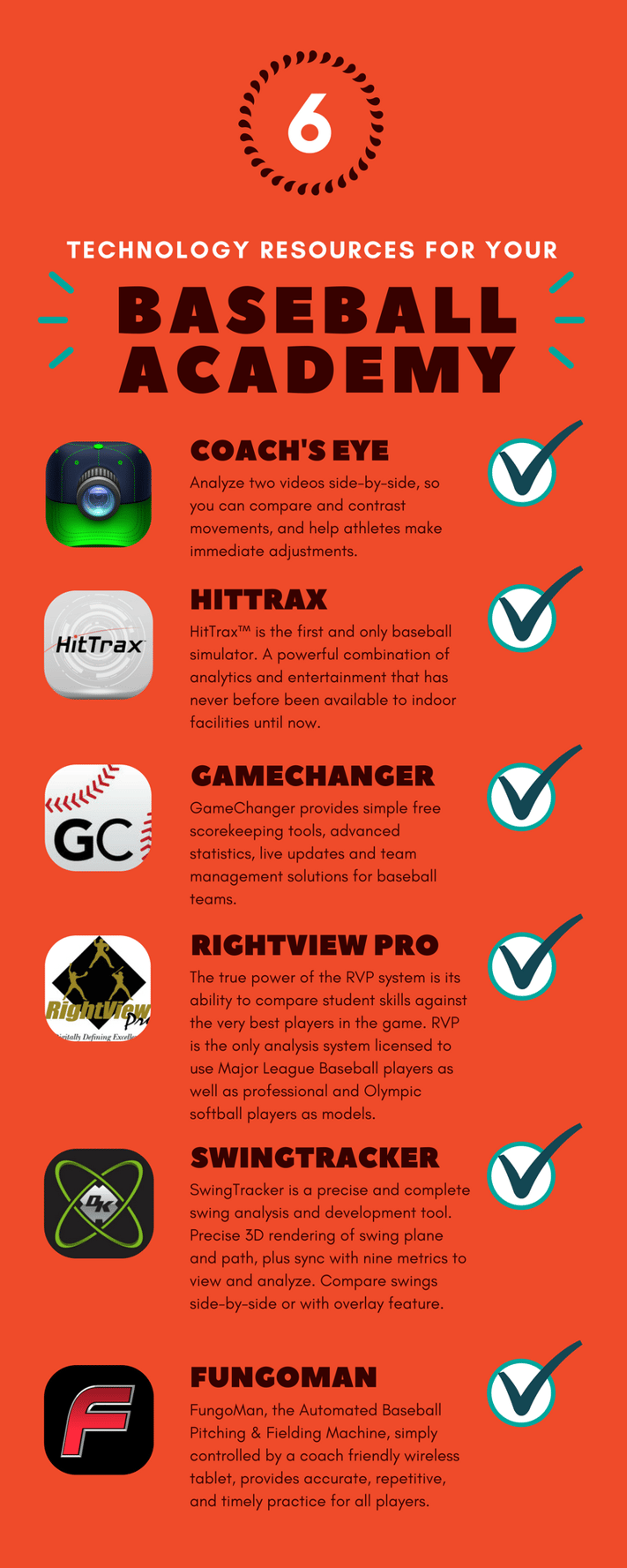 Baseball Academy Technology Resources to Consider
Hear baseball academy owner and coach, Chance Beam give his review of Coach's Eye. He sums up the Coach's Eye value: "Coach's Eye allows you to slow down the game."
Elite Baseball Training St. Louis, Owner, MLB Scout, Coach Rick Strickland gives his testimonial with this: "

HitTrax is the single most important tool I have ever purchased for our training academy.

When first purchased, we looked at it from a pure entertainment point of view but the power of HitTrax as a training and analytics tool is unmatched. We are only scratching the surface of what this thing can do as a training tool. Thanks guys for a wonderful product."

In 2014, HitTrax won the Best of Show by Collegiate Baseball.
This one's gonna get you organized and focused on the field, with GameChanger taking care of management. Check out the Coach Features here.
With the naked-eye you would never think that Mickey Mantle and Ichiro would be this similar. RightView Pro holds unique value for its analysis feature that can compare swings. Check out RightView Pro's comparison of Mantle and Ichiro.
SwingTracker offers real-time databases by age and level of play from 10U to Professional Majors. Compare your swings to average and top 20% of your peers and players at higher levels. Check out their science blog series "

SwingTracker Metric Analysis"

featuring Diamond Kinetics co-founder and Professor of Mechanical Engineering at the University of Pittsburgh, Dr. Buddy Clark and former University of Cincinnati and Lincoln Memorial University catcher Russell Clark continues with a look at

Impact Momentum

.
FungoMan offers baseball training benefits both offensively and defensively by utilizing automated machine

simply controlled by a coach friendly wireless tablet, provides accurate, repetitive, and timely practice for all players.

Watch these videos of coaches from all levels of play discuss how they use their FungoMan.
Where does FungoMan fit in the technology scene of baseball? See here.
---
The point of drawing attention to these new software and equipment advances is by no means meant to be a complete list of technology resources -- rather, to expose baseball academies and baseball coaches to the tools at their disposal. While the future is uncertain, one thing is clear in baseball training: Our knowledge and technology is expanding. Here's another way to put it: as the technology expands so does your empowerment as a coach.
Feel free to download this eBook below written by Chance Beam, baseball coach, baseball academy owner, and embracer of baseball technology.