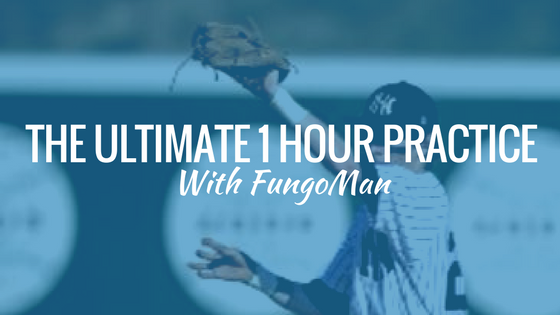 All coaches have a number of go-to drills they visit in practice every single day. Aside from the obvious ones like ground balls to infielders and BP, your favorites might be anything in your coaching repertoire from hot box, to double play drills, to long toss.
Wouldn't it be great if you knew you could workout every position efficiently in an hour practice?
That's exactly what this infographic is for. In practice, it's nice to have a regiment of go-to drills that can work for your team on specific skills for each position, while also keeping everyone engaged and challenged.
How you utilize FungoMan will depend on your creativity in addressing all areas of play on the field. The infographic below is our 1 Hour FungoMan Practice; feel free to print it, and make it a part of your practice strategy.
Below you'll find screenshots of each drill mentioned above in the infographic with a summary of what types of balls are included in each drill.
1B PICKS - 5 Minutes

CATCHER POPUPS - 5 Minutes

SHORTSTOP DRILL SERIES - 5 Minutes

INF 12-BALL - 10 Minutes

INF TIMED-GB'S - 5 Minutes

TEAM POP-UP PRIORITY - 5 Minutes

8 BALL ROTATION DRILL - ALL POSITIONS - 5 Minutes

OF 18-BALL- 10 Minutes

OF WALL-BALLS- 5 Minutes


OF COMMUNICATION - 5 Minutes

---
This is by no means a complete list of drills, but they do encompass a relatively well-rounded address of team practice. What did we leave out that you would have included in a 1 hour practice block? We would love to hear your thoughts on how to maximize limited amounts of time in practice. Looking for more drill series? Download our eBook below!
DOWNLOAD our FREE FungoMan Factory Installed Routines eBook, complete with 40 practice routines!