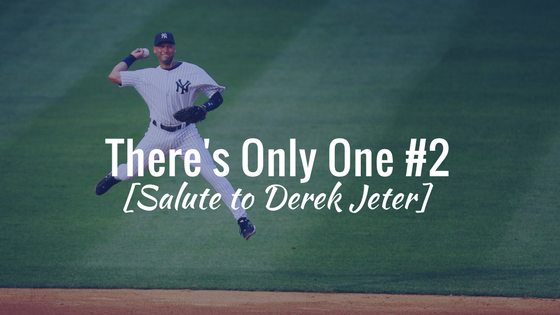 On the heels of a historic weekend, "#2" is now retired in Memorial Park, and we would like to give our own salute to the great Derek Jeter.
"The Captain," "Mr. November," and "Der-Rick Jee-Ter" ―such hallowed words.
Check out these career highlights the world of baseball shall forever revere, and download our free shortstop baseball drill while you're at it.
MLB offered up a vote on most iconic moment of Jeter's career, and Twitterverse answered.
The #Walkoff wins!

You voted Derek Jeter's final Yankee Stadium hit his most iconic moment. #Jeet16 pic.twitter.com/sKHtS1JDg2

— MLB (@MLB) May 14, 2017
We've rounded up these iconic Jeter moments for your viewing pleasure. Enjoy.
Mr. November―there's only one.
"The Flip"―can't be taught.
"The Dive" vs. the A's―never fear, Jeter is here.
Yankee's Hit King―all hail.
"The Dive" vs. Boston―casual.
Most Hits By SS―breaking records like it's NBD.
The Stadium Speech―such a pro.
The Jeffrey Maier Homerun―there were two heroes in NYC that night.
Ties Game 5 With Homerun―Mr. Clutch.
Homerun Off Bobby Jones―Sorry not sorry Mr. Jones.
Final Walkoff―Too good to be true, in true Jeter fashion.
---
Anybody miss seeing this guy play? It's just a matter of time before we're all telling our grandchildren the Legend of Jeter. Have a favorite Jeter moment you'd like to share? Comment below!
Snag this FREE DRILL below to help develop the next superstar shortstop!