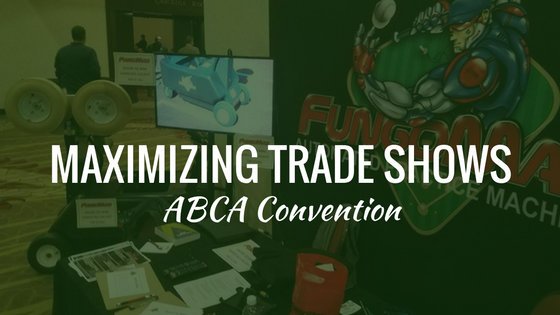 It's trade show season! Bring on the booths, the freebies, the clinics, the motivational speakers, and especially the chance to focus on nothing but the game.
I've been to my fair share of trade shows and let me tell you: trade shows offer far more than just handfuls of free double bubble gum.
Trade shows offer the rare opportunity and forum to share ideas, try out new techniques, and network with successful coaches.
If trade shows are the buffets of baseball, the coach who picks up the most new skills and eagerly networks with the most winning coaches, gets the most out of his baseball buffet meal ticket. Check out some of the ways we think you can get the most out of your trade show experience.
Ears open for the one thing you didn't know.
We live in the Information Age. Self-constructed solutions are more commonplace than ever in a world where individuals can make decisions based on personalized needs. HOWEVER, the nuances and techniques of baseball training go far beyond what any one person could find in our information saturated society -- i.e. The Internet.
Where Google may provide an answer to a coaching question at the drop of the hat, a constructive dialogue between two coaches may in fact bring more insight than anything else.
Perhaps there's gold to be mined in the information you already know. Listening to a coach talk about hitting won't be altogether new information, but he may have an approach that will help one out of your nine starters. Or maybe more importantly, a key tip for the guy off the bench who will deliver the big hit when it's most needed.
Even if you know the 90%, that additional 10% of information would be worth searching out, right? You might gain one thing that helps one player make one play that wins a championship, and earns him a spot in a college program.
Surround yourself with winners.
Coaches aren't just baseball buddies; they are your very own library of baseball resources. Hence, there are no rules against watching what winners do and adopting successful strategies for improvement. Networking is both beneficial for you and your players.
Conventions are golden opportunities to pick up one or two new elements for your own practice schedule.
Coach Glenn Cecchini is one of the best case studies of successful coaches who never stops learning. He's an unashamed questioner, always doing something new, no matter how many championships he's won. Read more about him here.
New technology is worth exploring.
If the coach's mindset revolves always wanting to challenge his players and program to be better, technology is where he finds the centripetal tools to wield those goals into reality.
Conventions are prime time for incorporating new technology, seeing new training techniques, and exploring the avenues of possibility for your program.
The job of a coach is never finished. There is no room to ever grow complacent. He is always challenging his staff, his players, and himself with new techniques and technology. There are always new ways of practicing and honing skill, and it is up to the always-improving coach to discover such methods.
And with that, we are ecstatic about rendezvousing with the American Baseball Coaches Association at the ABCA Convention this year in Anaheim, CA! I hope you enjoyed some of these thoughts on trade shows and how to mine the most out of them this year as trade show season begins.
Looking forward to seeing everyone in the FungoMan booth. Drop by booth 277! Enter our raffle for free gear and tech you might use for this year's season!