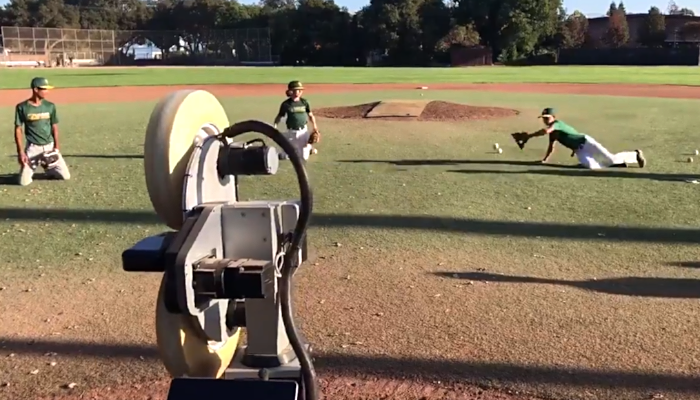 We all love a good diving play, but when it comes to practicing diving catches, our full-bodied dives can't take many repetitions.
Coach David Klein (Head Coach at Menlo-Atherton HS) may have just discovered our saving grace.
WATCH HIS DIVING DRILL BELOW!
Dive, Get Up, Make the Throw
@FungoMan diving drill pic.twitter.com/qrU0n8EeVV

— David Klein (@CoachDavidKlein) September 29, 2018
With difficult plays, great coaches know how to break down the steps until each phase of the play is well-oiled and ready for the game situation. A diving catch has many components working to make the play.
Diving Play Variables
Reading the ball

Footwork

Hand-eye coordination to determine necessary distance to dive and reach the ball

Catching the ball

Getting up quickly

Making the accurate throw
In Coach Klein's drill, he focuses on the hand-eye coordination needed to determine the diving distance, reach to catch, and getting up (or at least partially).
We're big fans of this drill because it allows the players the opportunity to work on these few components of a diving catch.
---
Be sure to follow Coach David Klein on Twitter for more good drill videos. What do you think about this diving drill? What BIG plays could you break down so that players can identify and master all the components of the play more purposefully?