---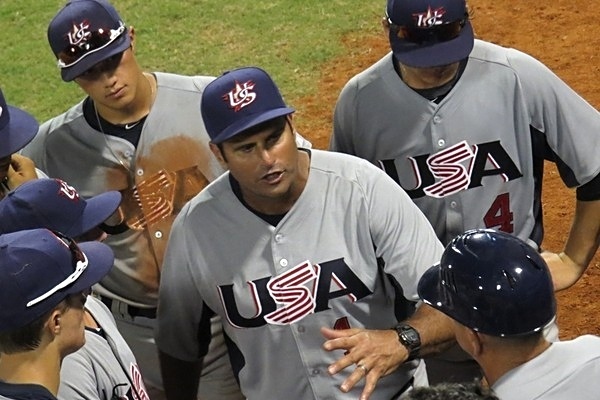 With 9 State Championship titles, 826 wins, and 29 players drafted, it's no wonder that Coach Glenn Cecchini was bestowed the honor of 2016 All-USA Baseball Coach of the Year.
Last week Cecchini generously shared some of his advice and championship-winning drills with us at FungoMan, and with his go-ahead, we're elated to share them with you.
---
For those looking to better their baseball programs, Cecchini offers three staple, everyday drills covering pitching, defense, and hitting. The only things that could rival his impressive knowledge and competitive edge for the game, is his respect and humility for it. Read on for some of the drills that helped shape a winning program.
1. Pitching: Throw between the strings.
Hailing from Lake Charles, Louisiana, Cecchini head coaches Barbe High School's Varsity baseball team. What should be noted is Cecchini's precision in defining the strikezone in southern Louisiana, where the average high school player is 5'11'', 6 inches from the top of the knees to the ground.
This fact affects the strikezone in southern Louisiana, and Barbe High School has taken note. With a firm belief in ball control, Cecchini challenges his pitchers to a strict pitching regiment of throwing 2/3 fastball strikes in each pocket of the strikezone. The same regiment is applied to change ups and breaking balls.
Serendipitiously enough, while Coach Cecchini and I were having this interview, his player, lefty pitcher Adam Goree called him to share the news that he had committed to McNeese (passing up offers to play for LSU and UL) to play baseball on scholarship, not to mention seizing the chance to play college baseball with his brother, Alex Goree.
Cecchini describes Goree: "The bigger the game, the better he is." Goree will go down as one of the winningest pitchers in Barbe High School history, throwing what Cecchini coined the "invisible ball."
With a walk average of 1.61 guys per game, Barbe holds an average that would impress any college or pro team. The secret? Cecchini says it's because his players buy into what they do. For example, they buy into emphasizing the most important pitch is the first strike.
When you throw strikes, you don't walk people, and you give up less runs.
Barbism/Cecchini-ism: Walks are the devil.
2. Defense: 21 outs.
7 innings. 3 outs per inning. 21 outs.
Every practice the team gets the opportunity to work on defense in a high pressure drill, with the goal to make 21 consecutive outs.
Coach hits balls to every position player, making sure that everyone gets at least 2 opportunities to contribute outs. When an error is made, the team starts over in the run to make 21 outs.
Cecchini believes in putting pressure on his team in practice, and leaving them alone in the game. With this principle in mind, the 21 Outs drill puts game-like pressure on players to perform well for themselves and their teammates.
Barbism/Cecchini-ism: Don't get bitter, get better. One pitch, one play at a time.
3. Hitting: Coach-pitched intersquad.
At 50 feet from home, Coach Cecchini (or assistant) throws every type of ball to both squads. For 20-45 minutes, it's baseball, but it's fast.
Lots of strikes are thrown from behind an "L"-screen, and the teams play everything live. The pitcher stands behind the screen, and coach get's to pace the game for moments of teaching specific game situation protocols.
The beauty of this drill is that the coach can simulate situations and work on team deficits. There are no rules, the coach can decide how many outs have to be made per inning, everything in the game can be worked on [sliding, stealing, bunting, etc.].
The motivation for each squad? Losers do field work. Competition keeps the players hungry.
Barbism/Cecchini-ism: Create a climate where nothing is beneath you, that's true leadership.
---
To know Coach Glenn Cecchini is to know the passion and zeal of a man who really believes what he lives. Coach Cecchini is very engaged in many aspects of his faith and the game of baseball; they seem to run together.
Here are some of those thoughts in no specific order on coaching a winning program and developing character and leadership in young men:
The success of our program, is all a by-product of letting 'love conquer all' and by putting Jesus first. We teach our team to be selfless, love each other, foster a family atmosphere, and live by the Golden Rule.

We pray before every game and with our opponents on the mound after the game.

Jackie Robinson once said, 'A life is not important except in the impact it has on other lives.' It's all about impacting others for Jesus.

Before every practice our team has a non-mandatory bible study that's student-led, where players give testimonies about their walk.

I believe that being grateful for health, blessings, and ability to play the game keeps things in perspective.

We want to do whatever it takes to win games. And we win games in a lot of different ways. We want to be the best in every area of the game, whether that's on the field or in the weight room.

Prayer is dependent on God. Work is dependent on us.

Things can snowball out of the control. The earlier a coach realizes this the better, if a kid makes a mistake, we say next pitch, next play. If they aren't playing the game hard, they get called out.

Jesus makes a difference. I don't yell at kids anymore. I don't have to yell at them to hold them accountable. I ask them, "Are you winning or losing?"
---
For more on the makings of a championship program, check out Glenn and Raissa Cecchini and Jeff Walker's book 101 Championship Baseball Drills!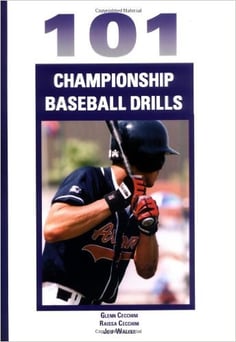 We hope you enjoyed this post as much we did talking with Coach Cecchini about baseball, coaching, and life. For more on Coach Cecchini, check out USA Today High School Sports' fantastic interview. Feel free to leave your comments below!