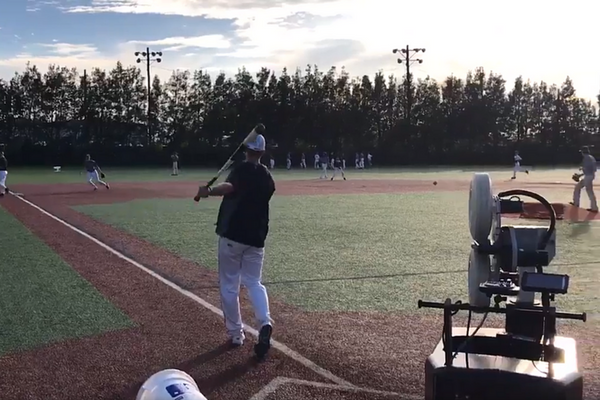 For a long time, baseball coach expectations were measured by ability to fungo accurately. And while being an efficient fungo hitter is still incredible useful (and still needed), coaches today are pushing the creative envelope of how to develop skill in players.
Coaches are no longer limited to the plate. Coaches are able to provide reps in more places than one. And these coaches are figuring out how to keep the work going, practice moving, and players growing at a more rapid pace.
Check out these 7 creative ways coaches are using their tools in practice or empowering players outside of practice.
Breakthrough Ways Coaches Use FungoMan
.@FungoMan might be a little more consistent with the catcher pop ups than the coaching staff (despite their exceptional fungo bat skills). pic.twitter.com/DnKRjpV0HP

— B-R Baseball (@brbaseball) March 19, 2018
Newman Greenies (6-7) taking pre-game bp before our 6:00 game vs (5A) Shaw. One our coaches was running late so I set up the @FungoMan to hit some ground balls in between pitches. #LCTtheProcess pic.twitter.com/n3B3bzybOn

— Chad Catalano (@Stars_Baseball) March 13, 2018
Soph. OF Jake Olson with the cage 🚀 off the @FungoMan #stuckinthegym #hurryupspring pic.twitter.com/0yFOUK1Gs0

— B-R Baseball (@brbaseball) March 13, 2018
Greenies had a great day preparing for 4/6:30 home game today vs a very good @CovingtonBSB. Here's a clip of our individual drills series. We have the @FungoMan working DBP at 4.5sec or better w/ middle guys. Corners working off the fungo, catchers out in RF, & OF working in LF. pic.twitter.com/xUiTD4eKo6

— Chad Catalano (@Stars_Baseball) February 27, 2018
@FungoMan Getting fly ball work inside. #82.4 #gettingbettereveryday pic.twitter.com/EgvuKBr4VS

— Coach Moore (@ericmoore23) February 22, 2018
Gamers @FungoMan at 83mph, with receive and throw drills with 15u catchers. Game speed reps. pic.twitter.com/BiUyZ80Y0z

— stlgamers (@stlgamers) January 29, 2018
Using the @FungoMan to mix up the throws and work on tags pic.twitter.com/hhFWX1BBqS

— Sean Travers (@sixfourclub) February 5, 2018
There's a movement of coaching that goes beyond tradition, it goes where players actually get better. It's an approach to practice that breaks big ideas into small actionable steps. That's FungoMan. Repeating the hard thing until it becomes easy. We want to know what you're working on! Share your practice videos on Twitter to be featured in the next batch of creative coaching ideas. Feel free to check out more practice video ideas from Sean Travers below.