---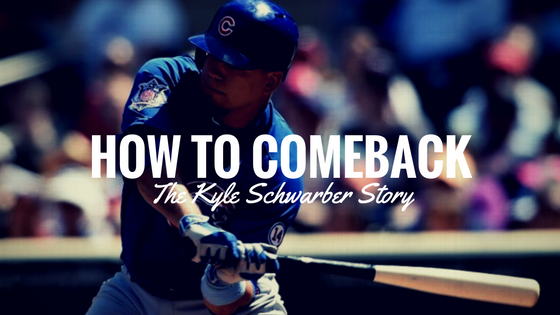 Take a seat folks, because class is now in session with Professor Kyle Schwarber on deck, schooling us all on the art of comeback.
This is no ordinary Comeback Course. What we have here is a front row seat to witness a legendary story and learn what it means to be a 23-year-old legend in the making. And with Game 6 on the horizon tonight, you and I will get schooled again by everyone's favorite designated hitter for the Chicago Cubs.
Grab a pen and pad, 'cause Schwarber's got some things to share with every kid who's gone through injury, still dreaming of performing on baseball's biggest and brightest stage.
Tonight as Kyle Schwarber steps up to the plate in Game 6 of the 2016 World Series, we should take notice of his blueprint for recovery and swift return to the field -- even if it may seem too far fetched for reality.
Schwarber may or may not write a book or sell the movie rights to his story; nevertheless, we have taken down some free tips provided by our Professor Schwarber on the subject of making your way back into the game, staying present, and contributing to the team on and off the field.
This is the stuff of legend, and we intend to miss nothing. The following are a collection of Schwarberisms every ball player would do well to follow:
1.
"Football mentality with a baseball passion"
Joel Sherman of the New York Post compares Schwarber's comeback performance thus far to Hall of Famer cornerback Rod Woodson, tearing his ACL 10 plays into the 1995 season opener and returning to play in the Super Bowl in January 1996 (source).
The comparison is astute, especially considering Schwarber's history in football as a middle linebacker. Schwarber accredits football as "character building" and good preparation for the big stage of Major League Baseball.
2. Keep Your Eyes Sharp
Millions are amazed as they watch Schwarber step in and rake in high stakes moments of the World Series, facing some of the toughest pitching around.
How is he able to do that?
Work ethic? Check this out: During his brief time in Arizona, where he went 1-for-6 with one double and two walks for the Solar Sox, before and after the two games he played, he says he tracked roughly 1,300 pitches off of a pitching machine.
"I tried to set it to the nastiest setting that I could, to where it would be a really sharp break, just to train my eyes all over again," he said.
And train his eyes he did.
3.
"Dominate the Day"
Schwarber's goal? "Dominate the day." His teamates and coaches all praise his "insatiable" work ethic. Despite knowing he wouldn't get a chance to see game time, he was first one in the clubhouse every day covered in sweat. Scott Miller for Bleacher Report tell us that, "For Schwarber, every day was Groundhog Day."
In terms of attitude and work ethic, Schwarber showed up and now he's showing out.
Bleacher Report: Comeback Kid Kyle Schwarber Rewarding Cubs' Faith with Impact World Series
4.
Visualize
According to Scott Miller with Bleacher Report, "On his flight up from Arizona Fall League's Mesa Solar Sox straight to the World Series, he envisioned hits.
"You want to visualize what it's going to be like when you come back so you're not thrown off by what happens when you're there," he said. "You want to put yourself in good situations in your head, and hopefully they play out in the field."
He dreamed a thousand dreams over again, the ones he imagined when he was a kid, the same dreams other kids who get bored on plane rides dream. World Series, game on the line, runners on the bases, here comes Schwarber to the plate…
Crack!
"Visualization is a very powerful tool, and I believe in that."
Bleacher Report's "Comeback Kid Kyle Schwarber Rewarding Cubs' Faith with Impact World Series"
Class Dismissed: Now go enjoy yourself a Game 6 of legendary baseball history complete with 2016's favorite comeback kid.
---