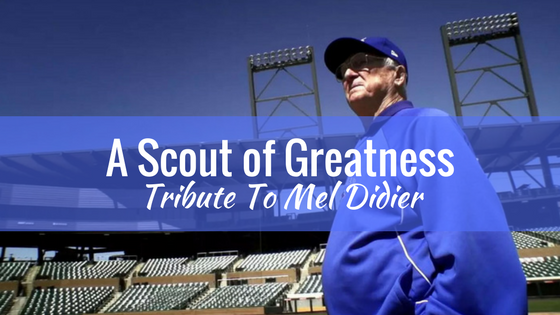 It's October 15, 2017 at Dodger Stadium and Los Angeles's Justin Turner has just hit a walk off home run against the Chicago Cubs to send them to the World Series.
Rewind 29 years, and it's 1988 at Dodger Stadium and Kirk Gibson has just hit a walk off home run against the Oakland A's Dennis Eckersley, on a 3-2 count slider. When you watch the replay of this moment, it's looks as if Gibson knew what was coming...and you know what? He did, thanks to Mel Didier.
Turns out, Gibson saw it coming due to Didier's advanced scouting report that Eckersley always threw a slider in a 3-2 count. Gibson worked the count to 3-2 and sat on the slider that he drilled over the right field fence at Dodger Stadium. And history was made, complete with iconic fist pumps.
We like to think the late scout Mel Didier would've gotten a kick watching history repeat itself in Dodger Stadium. Known as a man of vision, Mel Didier fostered the talents of future Hall of Famers and big-play makers alike. He saw talent and potential greatness in players for baseball organizations including the Expos, Mariners, Dodgers, Indians, D-Backs, Orioles, Rangers, and, at the time of his death, the Blue Jays.
With a lifespan of 90 years, Mel's reach can be felt in countless historical moments in the game due to his proven insight. Check out the extent of his influence in baseball history, by watching Scout's Honor: The Mel Didier Story for free below.
Scout's Honor: The Mel Didier Story (FULL)
For the aforementioned reasons, we would like to give a hat tip to Mel Didier for his contribution to the game, his endorsement of FungoMan, the baseball practice machine, and his passion for athletes' success in baseball.
Thanks Mel, we tip our hat to you.