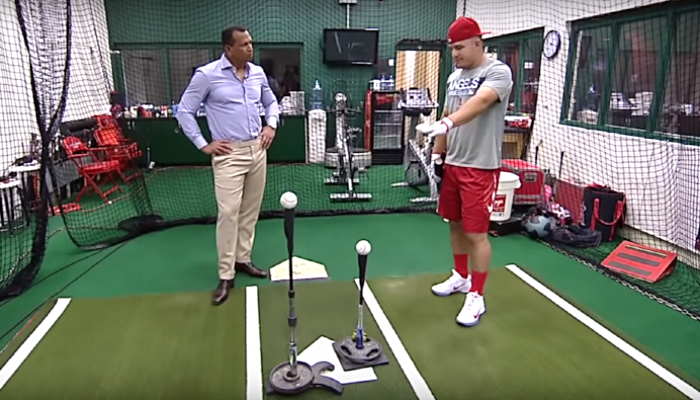 Let's take notes. A-Rod and Trout are here to talk BP, and we got a hunch you might want to hear their conversation in the cage. With a career batting average of .295 over 22 years, Alex Rodriguez interviews Mike Trout standing with .309 batting average over 7 years to talk BP, pre-game, and high and low pitches.
WATCH their interview and check out our footnotes below!
Here are a few take away's from their hitting discussion [starts at 5:20].
BP Routine:
Ball on a T (placed on middle of plate): Hit Down the Middle
Inside out swing, trying to stay right down the middle
Line drive, top of the screen
Avoid hooking, popups, and rollovers
5-10 swings [5 good ones in a row]
10 flips, hit away
Front hip drill: hit against front side to pull the ball
2-3 rounds of live arm
2-3 rounds breaking balls (righty or lefty depending on pitcher)
Pre-Game Routine:
Lifting 30-45 min before stretch (once a series)
Stretch and throw
1.5 before game get in hot tub
High Pitches [Accommodating adjusted strike zone]:
Swing path: inside out, straight down
Work high to low; start with high ball on the T, and work your way down the strike zone
Focus on keeping back shoulder from dipping
---
The more advanced you get, the more simple it seems to become for the best hitters in the game.
Forging a good hitting routine with players can be tricky -- but with these easy to implement thoughts from Rodriguez and Trout, you'll be confidently guiding them to find their swing. Sometimes, you get those perfect pitches down the middle, but when the highs and lows come, you'll be ready for those too.