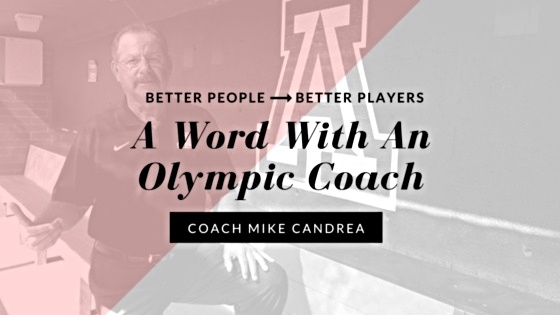 With 1,500+ collegiate wins, 24 appearances in the NCAA College World Series, 8 NCAA National Championships, and Gold and Silver Olympic Medals under his belt, we think Coach Mike Candrea is pretty much golden through and through.
And it's NOT just because he's a winner. Coach Candrea epitomizes what it means to be an excellent coach on the field and in life.
"If you try to make your players better people, you'll find that they'll become better players"
-Coach Candrea
When a coach can embody healthy balance between the game and life surrounding the game, a stunning thing happens: integrity, honor, discipline, and love for the game and for people emerges.
And Mike Candrea's reach of influence has affected thousands.
After 30 years of head coaching at University of Arizona, Coach Candrea's legacy marks the softball world like few others. His legacy as an expert coach has taken him to the top level of athletic performance at the Olympic stage, where he has triumphed as a gold and silver medalist. A lifetime of training young people into elite athletes and promoting a lifestyle of integrity, has marked this man as a coach worth imitating. (To be completely blown away by his success rate, check out his bio)
Here we've included some of his techniques and tools for your coaching benefit.
Coaching with Positive Reinforcement
Tell the player what you want done. NOT what you DON'T want done. Keep it positive.
How to Handle Failure
You have a choice how you respond. The positive response will get you a lot farther in life, than the negative response.
Coaching Culture
Family, Faith, & Finding what you love to do
Making Practice More Efficient
FungoMan Favorite Uses: Finding proper angles on fly balls, Pop Up Communication, & Coaching Creatively
Didn't know FungoMan had a softball edition? Check it out here.
---
If you want to challenge your coaching habits, design a practice to develop positive player outlooks and witness the effects of a culture of positive reinforcement. Players want to rise and surpass positive and clear objectives. Provide opportunity for personal development, and the athletic performance will sort itself out with hard work and encouragement. Like Coach Candrea said, "Try to take something from the game, and relate it to some aspect of life. After all the game will end one day, and you'll need to know how to compete in the game of life."
---
Check out more on Coach Mike Candrea and his softball training at
---