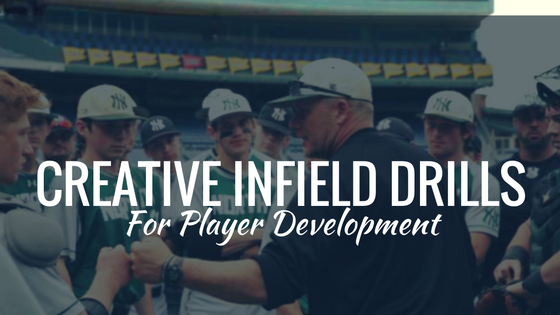 Guest Blogger: Coach Trent Mongero of Winning Baseball
Are you looking for new and effective ways to improve the mechanics, range, and consistency of your infielders and catchers?
I've put together a short, but very effective video drill series that will do just that.
These exact drills have made a huge difference for my players, and if you implement them, I'm certain you will see a dramatic increase in the confidence and performance of your players as well.
Each video clip below is actual footage from our skill development workouts this past fall.
Please click here to access my entire Winning Baseball Skills and Drills Library:
(for a special 25% off discount code: WB25OFF)
7 Creative Infield Drills Used To Effectively Develop Your Players
Drill 1: Four Second Feet -- Game Speed Groundballs
Purpose: Executing ground ball to 1B in 4 seconds.

FungoMan Timer: 4 seconds

The average MLB right-handed batter takes 4.3 seconds to run to first base. A left-handed batter takes 4.2 seconds. We set the internal FungoMan timer horn at 4 seconds to create game speed tempo and improve game consistency of our infielders.
Drill 2: First Base Random Pick Drill
Purpose: Executing picks at 1B, work low picking the ball ground-up, keep palm parallel to ground to pick the hop, trusting instincts

FungoMan: 3-4 second intervals
Drill 3: Game Speed Pop Time Catchers Drill
Purpose: Catcher catches the ball from machine and makes throw to 2B for the out under 2.5 seconds

FungoMan is positioned on mound and internal timer is set 2.5 seconds. This simulates an 85 MPH pitch (.5 sec) and a desired pop time for our catcher (2.0 sec or under).

(for a special 25% off discount code: WB25OFF)
Drill 4: Infield Choose Your Hop Drill
Purpose: Working on footwork while identifying extreme topspin ground ball hops

FungoMan: Extreme Topspin
Drill 5: Tags At 2nd Base Drill - Good & Bad Throws
Purpose: Catching throw from Catcher, straddle the base, make the tag, and show the umpire.
Drill 6: 5, 6, 7 Triangle Drill - Infield Catch
Purpose: Catching difficult fly balls in the triangle
Drill 7: Navigate Dugout Pop-Ups In Foul Ground
Purpose: Gaining a true home field advantage, by catching pop-ups around the dugout

---
Learn more about Coach Trent Mongero by visiting:
---