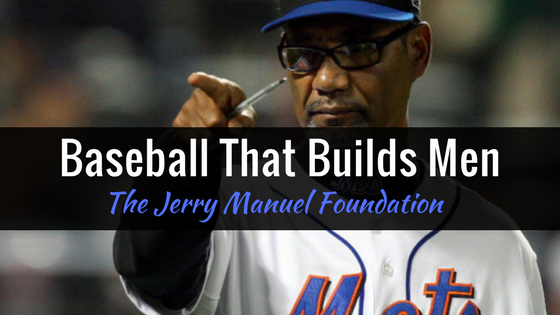 Every so often, we hear baseball stories that move us. This one isn't happening under the bright lights of the Major League stage.
This is a story unfolding in Sacramento, CA, where urban youth are given an opportunity to receive Charter School quality education, while receiving elite baseball training from the legendary Jerry Manuel and his team.
Get inspired by how Jerry Manuel is using baseball to build character in the next generation of young men in life and the game.

Jerry Manuel Talks About The Foundation
Jerry Manuel was born on December 23, 1953 in Georgia. An outstanding student-athlete in high school, he carried fond memories of his father Lorenzo playing Negro League pickup games and pitching with the greats.
Following his father's athletic footsteps at eighteen, and 220 full scholarship offers to play football, basketball or baseball across the nation, Jerry was the #1 pick of the Detroit Tigers and signed as a professional.
He has earned top honors over his MLB career. He is married to his high school sweetheart Renette, wife of 39 years. They have four beautiful adult children; Angela, Jerry Jr., Anthony and Natalie, and seven growing grandchildren. (bio from Jerry Manuel Foundation)
Brita Sends Jerry Manuel Foundation 14U to the NYBC
Jerry Manuel On Coaches Creating Quality Relationships
Jerry Manuel's committment to "cultivate greatness" in the next generation of young men in Sacramento, CA, challenges the status quo with tools that empower.
Check out the amazing work the Jerry Manuel Foundation is doing at their website.
---
If you were moved or inspired by the JMF, leave a comment below and share this blog post on Facebook!
How has baseball shaped your life? Which coaches made the most profound impact on you as a player and as a person?
Know any great stories of men who've given their lives to raising the next generation of baseball? Feel free to share them with us!