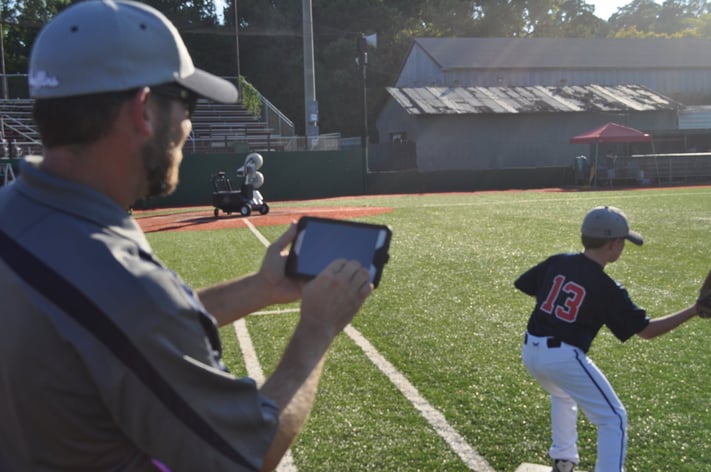 Congratulations! You have an extraordinarily powerful tool in your baseball training arsenal. We're excited to help you get well on your way to executing advanced practice regiments with your team.
While the machine itself gives you the ability to get quality reps for your players, the wireless remote is the axium for taking your coaching to an unprecedented level of immediate communication with your team.
Pull out your FungoMan wireless remote and let's get you started.
Step 1: Wireless Remote Menu
Step 2: Connecting To Wifi + Testing Connection
Turn on the FungoMan FM-250 Automated Practice Machine.

Turn on the Wireless Remote.

Press the Wi-Fi Settings button.

If the Wi-Fi adapter has not already been enabled, press the Check Box to turn on WiFi

The wireless controller will find the FM-250 and obtain the proper settings to connect.

If the Wi-Fi doesn't automatically find the FungoMan network (name of network will start with FM150-), find the FungoMan network in the list of available networks.

Press on the FungoMan Wi-Fi network

Press connect

The wireless controller should now be connected to the FM-250.

Press the Back button to return to the Home Screen.

Press the FungoMan icon to start the FungoMan Wireless Remote application.

Choose the appropriate base path size.

Select Base Path: 60, 70, 75, 80, or 90 ft base paths are available.

Each base path has factory installed routines that are unique to that base path distance.

Each base path saves user created routines that are only accessible if that base path is selected.
Step 3: Getting To The Quick Pick Page
Positions are preset according to degrees on the field.

-45 degrees represents the 3rd base line, 45 degrees represents the right field line, and 0 represents the middle of the diamond.

Each position has a specified starting position. For instance, the Left Fielder has a starting position of -30 degrees.

When LF is selected along with an elevation and speed, the FM-250 will move to -30 degrees.

The FM-250 will also move to a pre-programmed elevation and speed that has been calibrated at the FungoMan factory.
Step 4: Throwing A Ball From The Quick Pick Page
1. Choose a POSITION (P, C, 1b, 2b, 3b, SS, LF, CF or RF)
2. Choose an ELEVATION (GROUND BALL, LINE DRIVE, or FLY BALL)
3. Choose a SPEED (SLOW, REGULAR, or HARD)
4. Press the THROW button to throw the ball.
We hope this quick start guide helps you best maximize the use of your FungoMan machine and wireless remote. Feel free to connect with us by commenting below, emailing us, watching our FungoMan YouTube Channel, and tweeting @FungoMan with all your questions and comments!